Appearance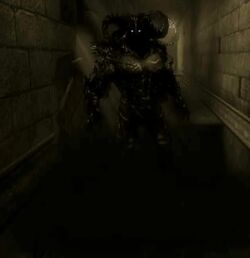 The Dahaka appears as a massive and powerfully built humanoid, clad in black. It has long ram-like horns that twist in the form of the symbol of infinity, and its eyes burn with a fierce inner light
[1]
, though the area around it is always covered in shadows. It also has the ability to shoot multiple tentacles from its abdomen. Every aspect of this being suggests it is a creature of a more supernatural world.
[1]
Personality
He shows frustration when his intended target gets away from him somehow, he is very adamant on catching his prey pursuing him, no matter what.[1] He is not open to reason, whenever he is obliged to restore the Timeline, he will not give anybody the chance to stop him. He is even willing to eliminate everything and everyone if necessary.[1]
References
Ad blocker interference detected!
Wikia is a free-to-use site that makes money from advertising. We have a modified experience for viewers using ad blockers

Wikia is not accessible if you've made further modifications. Remove the custom ad blocker rule(s) and the page will load as expected.