Development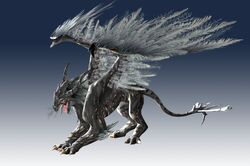 The Sands of Time
A Sand Griffon was originally planned to play a major part in the story of Prince of Persia: The Sands of Time[1], but it was ultimately removed from the game. Its appearance is mentioned in the original screenplay. It can be seen depicted in concept art and early video footage.
References
Ad blocker interference detected!
Wikia is a free-to-use site that makes money from advertising. We have a modified experience for viewers using ad blockers

Wikia is not accessible if you've made further modifications. Remove the custom ad blocker rule(s) and the page will load as expected.