Hourglass of Time (Sandglass of Time)
Talk

0
283pages on
this wiki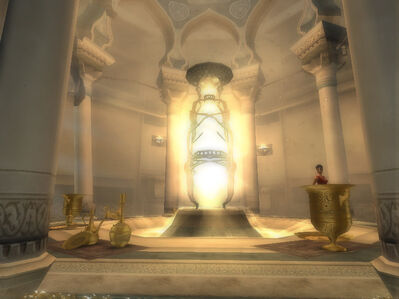 The Hourglass of Time, or just the Hourglass, is an Artifact that is present on the Prince of Persia series. It contains the Sands of Time.
The Sands of Time were once released from inside the Hourglass by the Prince after the Sultan queried it glowed, and the Vizier replied that only the Dagger of Time could unlock the "marvels" inside.
On Warrior Within, the Hourglass makes an appearance in the throne room in the Fortress of Time. There, or then, the sands inside it are not the same as the Prince released in the previous installment. This time, the sands contained within the Hourglass are actually in a countdown for the creation of the Sands of Time.
In the Sands of Time movieEdit
The Hourglass also appears in the film. It was originally created by the ancient God's as a means of containing the Sands of Time after they had decided not to use the sands to destroy mankind.
In the climax scene and throughout the film it is often reffered to as the "Sandsglass of Time". it is much larger than the one in the game that it's location is a hundred feet underneath the city of Alamut, only the blade of the Dagger of Time can pierce through the Hourglass/Sandglass and remove the Sands of Time but it is forbidden.
This gallery contains photos of the hourglass as it appears in the 2010 blockbuster movie.