Sand Army
Talk

0
282pages on
this wiki
"...As many warriors as the grains of the desert sand."
―Malik, before he releases the army.
The Sand Army (also known as Solomon's Army) was a formidable army created by Ratash to kill King Solomon and the Djinn.
Because Ratash did not agree with the pact that the Djinn had created with humans. The soldiers of the Army were sand monsters which could turn ordinary people to sand statues with but a single touch. However, King Solomon was able to seal them away using a powerful Medallion. Thus, the Sand Army was imprisoned for a long time until Malik, brother of the Prince released it.
Upon release, it quickly managed to turn the whole population of Malik's city into stone; all except Malik, who had one half of the Medallion, and the Prince, who had the other. (People in possession of these halves are safe from the deadly touch of the sand monsters, and once the monsters die, their energy is transferred into the body of the owner's of the seal.) However, the Prince finds out from a Djinn (powerful beings that once thrived, and controlled the elements themselves) that if the two halves were reunited, the army would be sealed away again; but Malik has gained too much power from the Army, and instead of sealing the army away, he wants to destroy all of it, so that he would gain all of its energy and be a powerful leader. The Prince is immune to this, because the Djinn he had consulted had given him special powers which blocked off the strange thoughts that had now overcome Malik.
The Prince then sets out to kill the leader of the army, Ratash, because Malik does not give him his half of the seal. By this time, the army has become even more powerful. When the Prince finally finds Ratash, it is in a fierce duel with Malik, and the Prince rushes to aid. Malik stabs Ratash, and seemingly manages to kill him: he absorbs all of Ratash's guts (shattering his eighth of the seal), and skips off in a hysterical fit, using some of Ratash's powers to escape.
When the Prince asks the Djinn as to w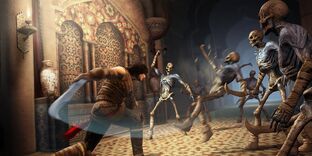 hat happened, she tells him that Ratash had actually killed Malik, and taken over his body. The only way to stop the Sand Army, now that the other half of the seal is broken, is to find a Djinn sword, and use it to kill Ratash. At first the Prince is hesitant about killing his own brother, but after witnessing his change into Ratash's original form, he is convinced that Malik is dead.
Finding the Djinn sword, he returns to the Djinn, who transfers her body into the sword. Upon confronting Ratash again, he is now gigantic, but the Prince fights him anyway, and manages to kill him using the Djinn sword and the Djinn within, thus also destroying the army.
In increasing difficulty going down:
The Charger, the first boss, and the strongest Charger, in the game

Added by

Michaelmon

Vultures
Rangers
Warriors
Elite
Spawners