Water Sword
Talk

0
282pages on
this wiki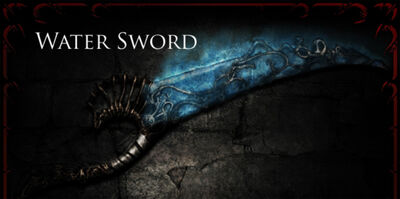 "This sword is not well-known. According to legend it has more power than imaginable."
This is a secret weapon the Prince can obtain at the end of Warrior Within.
The Prince can obtain it by activating all the nine life upgrades. Each life upgrade, once activated, sends a process through the hourglass chamber which allows one out of nine digits forming a circle to glow white. When all the life upgrades are activated and the digits forming the circle glow, the chamber opens a pit in the middle of the circle, and the Water Sword rises out. This is the most powerful sword in Warrior Within, easily finishing off normal Brutes with less than ten hits and the only one strong enough to kill the Dahaka, and when near it the sword starts to glow blue. Just like the Lion Sword and the Scorpion Sword, it is capable of storing up energy for devastating attacks and similar to the Scorpion Sword, it is capable of breaking cracked walls. Although the sword is available to the ones who has obtained all the nine life upgrades, the players who have got all the upgrades can prevent taking the Water Sword by not stepping into the circle, allowing the player to fight Kaileena with all nine life upgrades.
It is unknown what happens to the sword after the conclusion of Warrior Within; but if the Prince took it with him to Babylon, then it was lost in the harbor when his ship was sunk in the Two Thrones.
The history behind this particular weapon is not directly revealed in the game. However, based on the Forgotten Sands story where the Prince is seen to wield a similar weapon of clear origin, it can be surmised that the sword draws its power from the Djinn magic, possibly the very essence of a living Djinn imbuing the weapon.